Indian Head Massage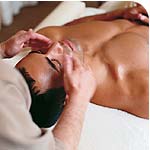 Indian Head Massage is a relaxing therapy that concentrates on the face, ears, neck, shoulders and upper arms.
The treatment will stimulate circulation, relax the scalp and relieve stress, headaches, migraines and eye strain. It also eliminates muscle tension and restores movement around the neck and shoulders.
This massage is best suited for people with hectic lifestyles as well as anyone suffering from stress who wants to release tension, have their energies rebalanced and their mind and body soothed.
Contact us for more information.
"You won't help shoots grow by pulling them up higher." –Chinese Proverb