Chinese Nerve Art Massage (Acupressure)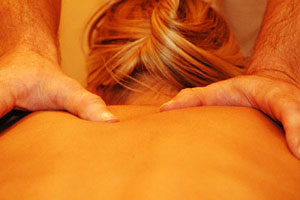 Acupressure is an ancient healing art that uses the fingers to press key points on the surface of the skin to stimulate the body's natural self-curative abilities. When these points are pressed, they release muscular tension and promote the circulation of blood and the body's life force (sometimes known as Qi or Chi) to aid healing. Acupuncture and acupressure use the same points, but acupuncture employs needles, while acupressure uses the gentle, but firm pressure of hands (and even feet). There is a large amount of scientific data demonstrating why and how acupuncture is effective.
But acupressure, the older of the two traditions, was neglected after the Chinese developed more technical methods for stimulating points with needles and electricity. Acupressure, however, continues to be the most effective method for treatment of tension-related ailments by using the power and sensitivity of the human hand.
Acupressure can be effective in helping relieve headaches, eye strain, sinus problems, neck pain, backaches, arthritis, muscle aches, tension due to stress, ulcer pain, menstrual cramps, lower backaches, constipation, and indigestion. Acupressure can also be used to relieve anxiety and get better sleep at night. There are also great advantages to using acupressure as a way to balance the body and maintain good health. The healing touch of acupressure reduces tension, increases circulation, and enables the body to relax deeply. By relieving stress, acupressure strengthens resistance to disease and promotes wellness. In acupressure, local symptoms are considered an expression of the condition of the body as a whole. A tension headache, for instance, may be rooted in the shoulder and neck area. Thus, acupressure focuses on relieving pain and discomfort, as well as responding to tension, before it develops into a disease (before the constrictions and imbalances can do further damage).
The origins of acupressure are as ancient as the instinctive impulse to hold your forehead or temples when you have a headache. Everyone at one time or another has used their hands spontaneously to hold tense or painful places on the body. More than 5,000 years ago, the Chinese discovered that pressing certain points on the body relieved pain where it occurred and also benefited other parts of the body more remote from the pain and the pressure point. Gradually, they found other locations that not only alleviated pain, but also influenced the functioning of certain internal organs.
At Reiki Master Thailand we offer a one and a half-hour Chinese Nerve Art Massage for 43 USD or 1,500 THB.
Contact us for more information.
"To know the road ahead, ask those coming back." –Chinese Proverb