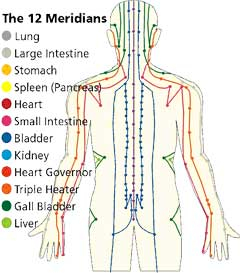 Chinese Nerve Art Massage (Acupressure):
Acupressure is an ancient healing art that uses the fingers to press key points on the surface of the skin to stimulate the body's natural self-curative abilities. When these points are pressed, they release muscular tension and promote the circulation of blood and the body's life force (sometimes known as Qi or Chi) to aid healing.
What is the Purpose of Acupressure?
The purpose of acupressure is to stimulate the body's own recuperative powers by stimulating the various points on the body. The stimulation removes energy blockages by diffusing the toxic build up that accumulates in the muscle tissue. The accumulation of toxins causes stiffness throughout the body. Stiffness in muscles puts abnormal pressure on nerves, and blood and lymph vessels. The pressure on blood and lymph vessels affect both skeletal systems and internal organ functioning.
How is Acupressure Performed?
Acupressure is similar to traditional massage. Points on the body are massaged using finger or thumb with a medium pressure. Techniques include: Rubbing, Kneading, Percussion and Vibration. Fingers, hands, elbows, knees and feet may be used to massage parts of the body.
Acupressure can help alleviate:
Pain, headaches, migraines, insomnia, depression, toothache, dizziness, menstrual pain, digestive disorders including diarrhea and constipation, nausea, motion sickness, stress and tiredness.
We offer a 50-Hour Course usually completed in either 10 days or 2 weeks.
The cost of this course is 20,000 THB or about $600 USD (depending on the current exchange rate).
Contact us for more information.